Our collection of Single Origin coffees are grown at the highest altitudes creating a mellow, low acidity and complex flavour – these are the best and rarest coffees in the world.
At FA Coffee, we believe in going 'Beyond Fair Trade' when we source and purchase our green bean coffees. All of our farmers and the cooperatives that we work with are paid in excess of the price recommended by the Fair Trade organisation.
In fact, if our coffee's were Fair Trade certified, the farmers and cooperatives from places such as the Caribbean, Africa and Indonesia would actually earn a lot less. FA Coffee does not take this for granted. We work hard with our suppliers to develop ways to create sustainable coffees and business solutions that always go beyond fair.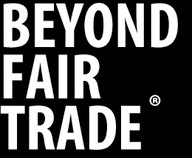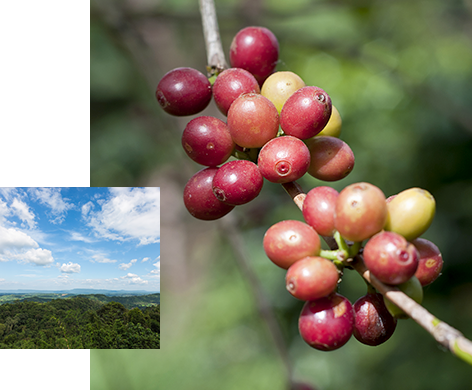 Jamaica Blue Mountain
Tasting Notes
The first is a notable lack of bitterness and the second is a mild, very complex, almost creamy chocolatey flavour.
Our Jamaica Blue Mountain from the Wallenford, Gold Cup, and Amber Estate has a delicate mildness and intricate complexity. As one of the most sought-after coffees in the world, it is also shipped in iconic wooden barrels – a method dating back to the 1800s. Coffee tasters often detect a profusion of floral notes with an almost chocolatey flavour. Only coffee grown in the legally defined Blue Mountain range can be certified as Blue Mountain Coffee. Some call it the spiritual site for coffee as its grown at around 7,400 feet above sea level. The mist and shade from the clouds create the most spectacular climate to cultivate Jamaica Blue Mountain.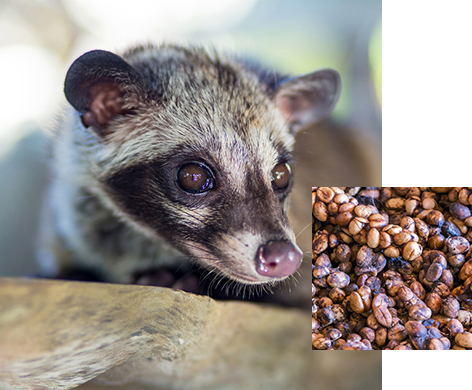 Kopi Luwak
Tasting Notes
Full and heavy almost syrupy body, low acidity, chocolate and caramel undertones.
Luwak is the Indonesian name for the Civet Cat. These wild cats meticulously inspect each berry and only choose to eat the berries that are perfectly ripened. Their ability to differentiate them is one of the reasons why Kopi Luwak is so highly-prized. Once the Luwak has ingested the ripe berries, a Natural' process begins. Their digestive enzymes remove any bitterness from the bean to create a one of a kind flavour.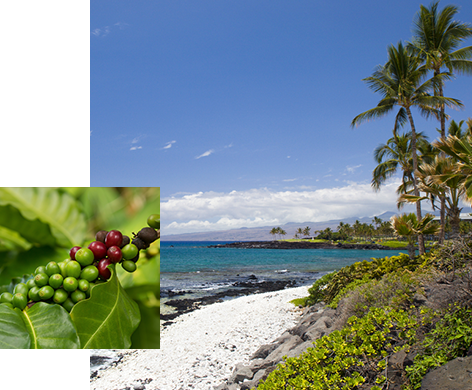 Hawaiian Kona
Tasting Notes
Bold and powerful body, low acidity and nutty undertones.
This coffee can only be called Pure Kona if it's grown on the golden Kona Coast in Hawaii. This stretch of land is only a mile wide and 30 miles long. A very small number of Kona coffee farms are in operation and most of them are owned by the same Kama'aina families for generations. Kona is often grown at high altitudes on the mountainous slopes of active volcanoes. Varieties including Extra Fancy Kona and Peaberry Kona Coffee are very rare and considered the best of the Kona collection. All of our Kona coffees are Pure Kona.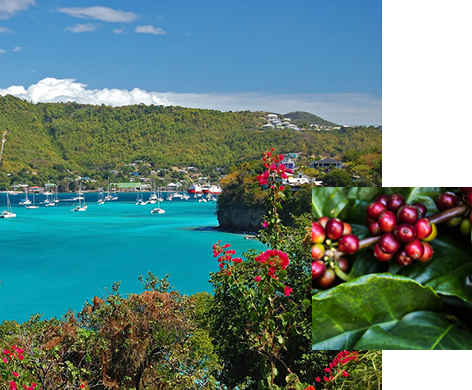 Guadeloupe Bonifieur
Tasting Notes
Delicate, slightly fruity, finely acidic, well-balanced and full-bodied like a fine vintage wine
Ancestor to the famous Jamaica Blue Mountain, this rare coffee has a regal history that dates back to the 17th Century. The name 'Bonifieur' meaning 'to improve' in French, refers to the way it was used to enhance lower quality coffees. Grown in Guadeloupe, a Caribbean island under French governance, this coffee is cultivated at an altitude of 300-400 metres between the volcanic mountain range of La Soufrière and the Caribbean sea. Connoisseurs consider it to be one of the best, oldest and rarest coffees in the world.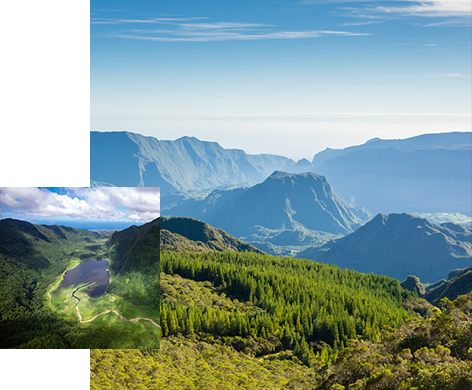 La Reunion
Tasting Notes
French Pastry Chef, Pierre Hermé describes it as: "A very low caffeine content, a delicate flavour… A floral and fruity aroma with notes of musk, rhubarb, pineapple, rose and spices."
Located east of Madagascar, Bourbon Pointu coffee from Reunion Island was once served to the Kings of France. Dating back to the 17th Century, this coffee is considered to be one of the world's best Arabica. Today, there are only around 60 growers on the island. A rare and low-yielding variety, La Reunion is naturally low in caffeine, making it easy to drink several cups a day. To preserve its delicate and natural acidity, these small oblong beans must be slow-roasted.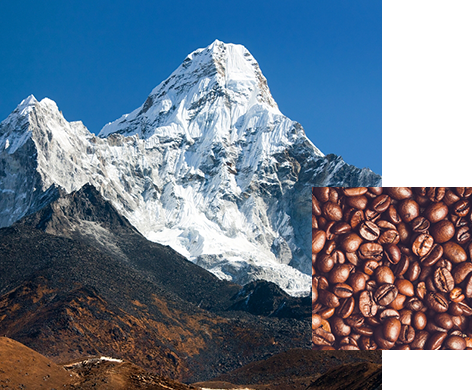 Mount Everest
Tasting Notes
A very mild acidity, light body and soft-smooth flavour, Mount Everest has delicate floral tones with hints of jasmine and cinnamon.
Located at the foothills of the Ganesh Himal mountain, Mount Everest Supreme is the Northernmost coffee grown in the world. Located 100km from Mount Everest, the plantation sits under snow throughout the year and is naturally irrigated with snow water. The beans are sun dried then meticulously sorted and cleaned by hand. This notable plantation contributes to reforestation, soil conservation and preservation of the environment. These actions have given rise to various species of birds and animals, which had previously vanished from the area.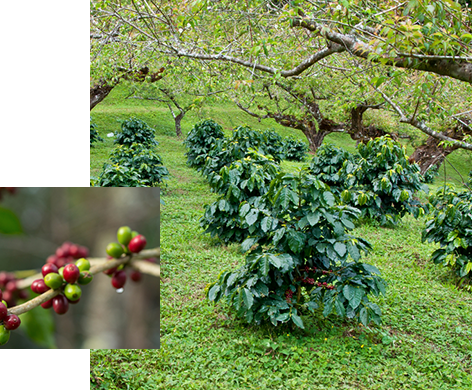 Bourbon Pointu New Caledonian
Tasting Notes
Well integrated acidity, very lean but smooth, silky mouth-feel. Milk and dark chocolate, citrus and flowers in aroma and cup.
Comprised of dozens of islands in the South Pacific, this coffee is grown in New Caledonia and can be described as a vintage Arabica – one of the oldest in the world. A perfect combination of rainfall, sunshine and temperatures in New Caledonia make it an ideal climate for coffee cultivation. Bourbon Pointu contains the lowest levels of caffeine in the world. Very delicate and elegantly balanced, this coffee rewards patient attention.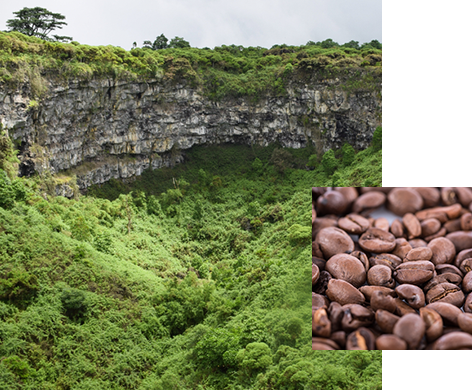 Galapagos
Tasting Notes
Fine acidity with a medium body, it's fragrant with sweet caramel overtones and notes of tobacco and spice.
Located at Hacienda El Cafetal in San Cristobal Island, one of the largest of 61 islands in the Galapagos archipelago, Galapagos is grown under natural forest shade. This means, the green beans are dried by soft sunlight, which makes them truly unique. Considered an heirloom bourbon variety, this coffee is grown from the same trees dating back to 1875. Galapagos Island law prohibits the use of chemicals and other pesticides making this coffee authentic.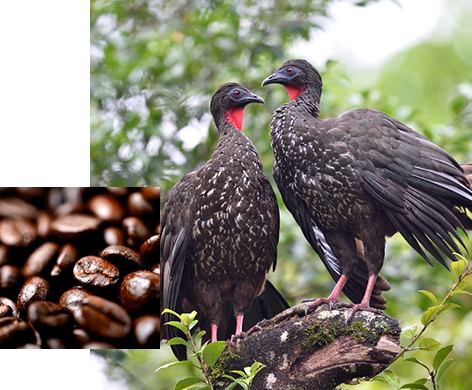 Jacu Bird
Tasting Notes
A soft mouth cup. The aroma has a nutty sweetness while wet flavorings contain molasses and notes of black pepper.
One of the rarest coffees in the world, Jacu gets its name from the native South American bird. Sourced from the Camocim Estate, Jacus are herbivores that inhabit the surrounding areas where the coffee is grown. They have an excellent eye for coffee beans and will select the ripest berries to consume. Their herbivore diet and fast digestion creates the most exquisite flavour.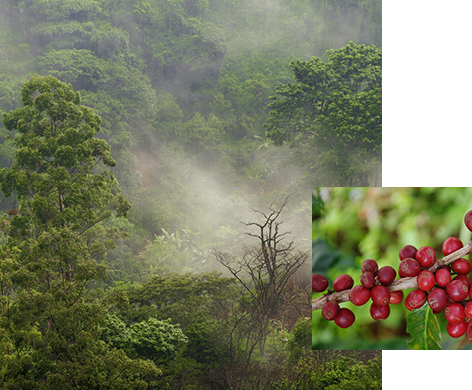 Panama Geisha
Tasting Notes
This Geisha coffee is distinguished for its light body with honey and citrus flavours that provide an outstanding taste profile.
Geisha was first discovered in Abyssinia, Southwest Ethiopia in 1931, and brought to Panama from Costa Rica in 1963. This coffee thrives in high altitudes and early attempts to grow it failed – it then fell into obscurity for decades. In 2004, Geisha was 'rediscovered' by an enterprising farm in Panama. They entered the beans in that year's 'Taste of Panama' competition. Not only did it win, but it blew the judges away. Since its surprise triumph, Geisha has gained a cult following in the specialty coffee world where it is famed for its complex and unique cup profile.